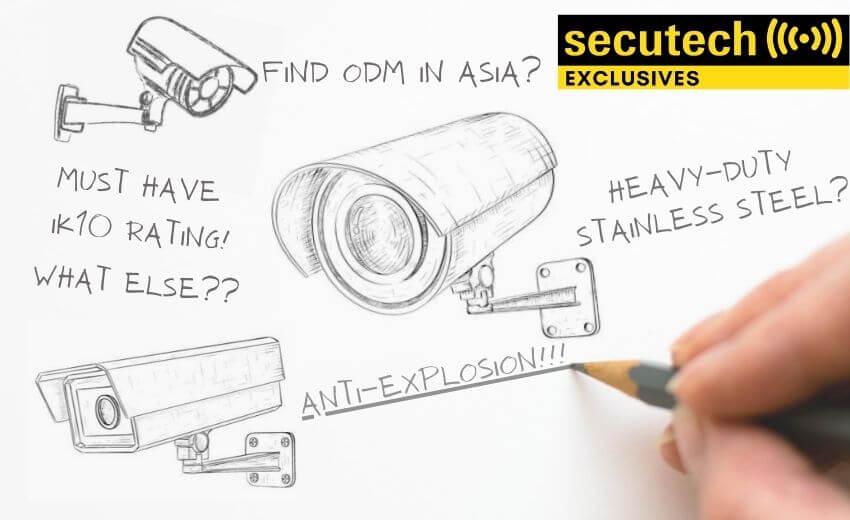 Camera housing might not be a trending topic like AI or video analytics. But all that expensive technology under the cover isn't going to make up for subpar performance when it's vulnerable to the elements in outdoor or hazardous applications.

So what should an installer/integrator look for? If you're looking for camera housing ODM/OEMs, what things can you expect of them?

To get some answers, we spoke to Chris Tu, VP of Cammax Optronics, a Taiwan DUNS-certified manufacturer/exporter of thermal and anti-explosion camera housing and accessories. 

Secutech: Please briefly introduce Cammax to our readers.
Tu: Cammax was established in 1999. We have years of experience dedicated to the manufacturing of anti- or non-explosion CCTV stainless steel housing, PTZ camera stations with or without IR illumination, ceiling/wall mounting brackets, water washer tanks and other accessories here in Taiwan.

Secutech: For which type of applications are your products suited for?
Tu: Our products are designed for monitoring and getting complete views of all areas. These are applicable for oil and gas refineries, chemical plants, metal plating plants, production plants, and various industries. Cammax products are also specially designed for use in hazardous areas in marines, offshores, and governmental infrastructures like for border defense, harbors and marine applications.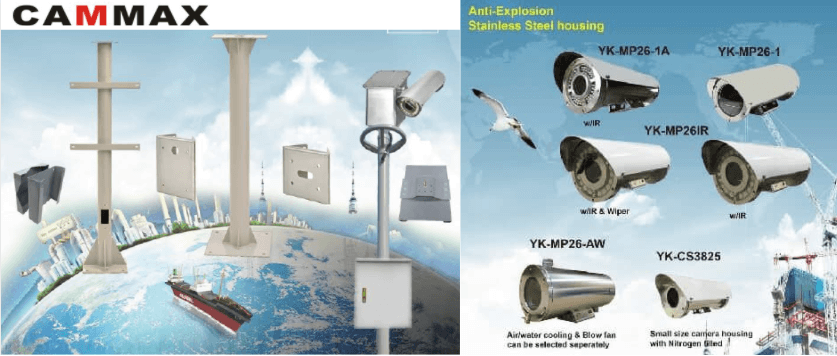 Secutech: You have since expanded overseas. Can you tell us about your OEM/ODM experience?
Tu: We have been dealing with companies in countries such as the U.K., Denmark, South Africa, Singapore, U.S. and Canada on an OEM/ODM-basis business relationship for more than five years.  

We offer all types of customization options and welcome enquiries for new orders, small orders, and OEM and ODM opportunities. We are in the process of getting Cammax anti-explosion products certified by the ATEX Institute to address overseas customer requirements and have other related certifications available upon request. This has been key for us to secure the trust of our clients in our products and services and puts us ahead of others in the market.

Secutech: Why should the market consider Taiwan brands or OEM/ODM as good alternatives to mainstream ones?
Tu: Actually, Taiwan's CCTV industry and technologies have garnered significant global market share for a long time already due to its good  reputation.

Secutech: As an OEM/ODM partner, what services do you offer clients?
Tu: We support them through the whole product process, from design, CNC machinery, fabrication, soldering, electrolysis to assembly, thus meeting the customer's satisfaction goals. Our skills enable us to design products that suit different purposes across the globe that works seamless with hardware, software and firmware to produce PTZ systems with calculation accuracy and speed. 

Cammax offers an extensive range of customization for OEM and ODM projects -- complete system integration of firmware, hardware and software and expandable capacity that can adjust to varying demands in industrial, marine and military projects. All products must pass our reliable hot and cold chamber environmental tests and inspections synchronized with IR imaging. As Cammax owns all the machines for CNC, metal processing, drilling, cutting, etc., we can immediately make product improvements and modifications, making it easy for us to meet the demands of OEM/ODM orders with flexibility and expediency.
   
Secutech: How should one go about choosing the right type of housing for their cameras? What should be considered when talking to a prospective OEM/ODM?
Tu: It's very important to choose a security camera housing that is constructed from heavy-duty weatherproof material. Other important things to look out for include IK10 vandal-proof and IP66 water- and dust-proof ratings. Functional design type and operational effiency are very important considerations during the housing selection process. Key aspects to win over installers are easy installation and connection.

When choosing OEM/ODMs, inquire about electro-polishing and electrolytic plating practices, as this will put the perfect finishing touch to the overall appearance. This, along with the manufacturer's metal fabrication expertise, translates to the quality work needed for top pricing.

Cammax is just one of the companies already signed on to exhibit at Secutech International (Taiwan) in 2021. Meet them at the largest gathering of Taiwan OEM/ODMs in the region. 
Secutech Exclusives
You might not be able to travel right now but you can get Asia company interviews and industry insights right in your mailbox by signing up for our newsletter or learn more about our 4 shows in Asia here.

Get more Secutech Exclusive articles here.