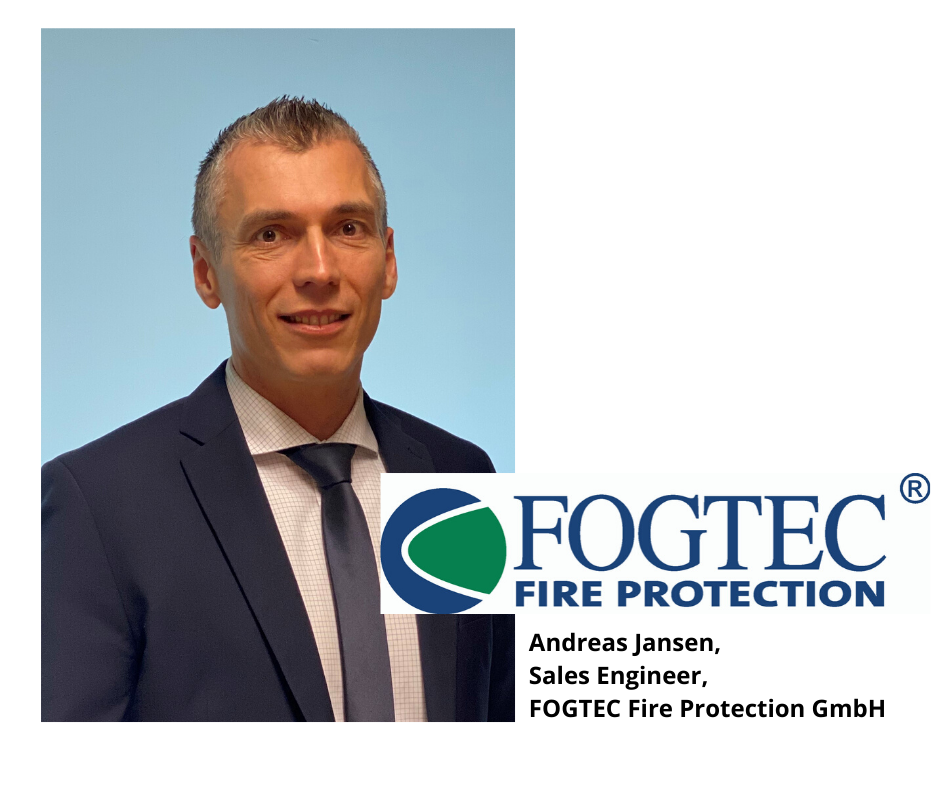 FOGTEC Brandschutz GmbH, headquartered in Cologne, Germany, is one of the world's leading suppliers of water mist fire protection systems with 20 years of experience. The wide range of customized high-pressure fire-fighting equipment is used for a number of different fixed and mobile applications.
Further offices and subsidiaries are located in Paris/France, Vienna/Austria, Mumbai/India and Shanghai/China. The company also has more than 60 licensed partners who service customers in Europe, the Middle East, Africa, Asia and South America. 

Visit company page
Interviewee: Andreas Jansen, Sales Engineer, FOGTEC Fire Protection GmbH 
What's your view on the Taiwan market?
The Taiwan market certainly is huge but with regard to fire protection there are still many new methods which are not common yet. At the moment water mist systems in Taiwan are very limited which is hard to believe if you consider the numerous of positive ratings from other countries like United Kingdom, China, India and in the most countries in Europe, too.
We got interested because we have protected several applications in Asia, like India, Singapore and on the China mainland. Especially for the Power and IT industry as well as for public buildings like archives, hotels or museums, our product would be very helpful and a new hope in the area of fire prevention. We are looking for new local partners for distribution and installation. 
What products/solutions does FOGTEC offer the market?
The FOGTEC service portfolio includes full service solutions, from consultancy work, the supply of components and complete systems up to installation and maintenance of water mist fire protection systems. FOGTEC systems operate at high pressure of around 100 bar. Pure water is discharged through specially designed, stainless steel nozzles to create a fine water mist with average droplet sizes smaller than 100 micron. FOGTEC systems are protecting thousands of fire risk in buildings and different industries all over the globe. 

Special water mist nozzles are the heart of each FOGTEC system. These are optimized for specific applications and have undergone extensive testing with independent testing authorities to ensure their reliability. FOGTEC water mist nozzles are subjected to a 100% quality test. FOGTEC high pressure systems split the water into very fine droplets to generate a large surface with necessary momentum to distribute these. This is the key to FOGTEC´s firefighting effectiveness. The extremely small droplet size results in a considerably greater surface area than with conventional systems. Thus the cooling and Oxygen displacement effects are significantly increased, pre-warning times are not required which means firefighting with a much smaller amount of water and less consequential damages is possible.
We see our products in different applications like the energy sector with cable tunnel, substation, IT, industry and production but also in public areas like archives, hospitals or hotels. Especially in public areas like archives and libraries, damages of fire can have disastrous consequences. With our technology we can reduce direct and consequential damages up to 90% and without any pre-warning time. More and more buildings should be protected with a smarter way of fire fighting.
Who are your target customers?
We would like to target installation companies with whom we can cooperate. Our target is to bring innovative and environmental friendly firefighting systems to Taiwan and cooperate with local partners.