Established in 2008, SkyEyes GPS Technology offers applications for the transportation, logistics and government sectors, with a focus on system integration services such as smart transportation application, driving attention assistance systems, fleet management, smart dispatch and APP application systems.
SkyEyes solution features include an enterprise resource portal, driving support system, automatic dispatching,  real-time traffic info, positioning and monitoring as well as integrates technologies like near field communication (NFC), geo-fences and cloud storage to create a management platform for integrated, comprehensive transportation management. 
Projects include the Taichung garbage truck management system, Chunghwa post-satellite postioning management system, Chi-Mei Corp automatic dispatching system and Formosa Petrochemical Transportation Corp GPS vehicle management system. 
Visit company page
What is your view on the fleet management market in Taiwan and Asia? What are the current trends and challenges?
As cloud applications, big data analysis, block chain, and artificial intelligence have become key industry technologies, the market is constantly looking out for low-cost adoptions and innovative breakthroughs. This is a great opportunity for manufacturing companies that have invested in long-term R&D innovations. 
Adopting emerging technologies can be challenging for the traditional transportation industry. Managers need to take the initiative and be open to new innovations. The biggest challenge to adoption, however, lies with the frontline  vehicle fleet workers (e.g.,drivers). Some fear being monitored or might be resistant to changing existing driving habits. This in turn, increases the difficulty of adoption and yield poorer results. 
So in addition to investing in R&D for product innovation, SkyEyes has also been assisting industries improve their business models -- from "monitoring" to "caring interaction for employee safety." We work hard to let customers fully understand the benefits of adopting our solutions -- improved work efficiency, productivity, and employee & asset safety. This greatly lowers driver resistance and increases the value of our services.
Why should global customers view Taiwan brands as alternatives to current mainstream brands? What sets your company apart from the others?

Taiwan's transportation sector is quite mature and the development of applications in this field is also among the most mature in the world. For global buyers, this means shorter development and product research cycles. We can offer lower costs and leverage our experience in Taiwan to stay competitive in the market. 
SkyEyes is an established brand in Taiwan with 20 years of experience. We continue to maintain industry-academia partnerships with colleges and universities, and constantly obtain the latest innovative research and development technology and manpower. SkyEyes has worked with Taiwan's biggest commercial and postal fleet companies, as well as top system integrators with customization capabilities. Our international customers can be found in Japan, Vietnam, Thailand, China and other places.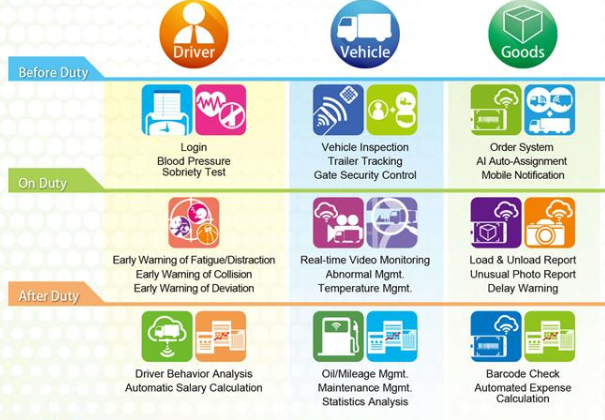 What products/solutions are you offering the market?
At SkyEyes, our goal has always been to increase passenger safety, vehicle energy efficiency and cargo transport convenience. Our cloud-based smart fleet management application can monitor and manage  drivers, vehicles and goods across all work stages -- before, on and after duty. 
Who is your target customer?
We targeting all transportation-related industry players. This includes the freight industry, container industry, logistics industry, passenger transportation industry, taxis, tour buses, transportation vehicles, waste removal and transportation industry, ambulance, security industry, business vehicles, credit Industry, traditional industry delivery vehicle, high-tech industry delivery vehicle (IC wafer, packaging test, LCD panel), towing and lifting industry, etc.